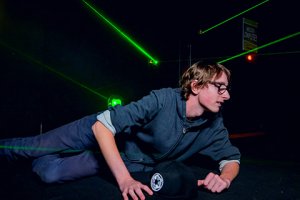 The Gold Coast is filled with fun and exciting activities for the whole family from its long sandy beaches and surfing spots, shopping and dining scene to world-class theme parks. If you want easy access to all these, Aruba Surf Broadbeach Resort accommodation can give you that!

Aruba Surf Resort has a selection of studio, one, and two bedroom apartments complete bright modern furnishings. Booking a stay here also allows you to use its excellent resort-style facilities like the sun-drenched outdoor pool, spa area, fitness room as well as the BBQ and entertainment area.

Once you are ready to head out and explore the area, do drop by the resort's tour desk. Aruba Surf's friendly and reliable staff would be happy to help you pick the best place for quality time with the family. In fact, here are five of the many family attractions you can visit.
1. Sling Shot Gold Coast Fun Park: There are four amazing activities in this location. If your family is a fan of thrill rides, then go ahead and ride the Sling Shot or Vomatron.
What is the difference you ask? As the name suggests, the Sling Shot ride literally catapults the riders vertically at over 160 kilometres per hour. The Vomatron, on the other hand, gives you an even more heart-thumping experience. This ride was based on the machine astronauts use to train. So get ready for a full 360-degree spin as the rides two huge electric motors that powers the giant 40-meter arm rotate with the speed of up to 120 kilometres per hour and 4gs of force.

Next is the Mini Golf, a Western-themed miniature golf with 18 different holes. Last is the Bungy Trampolins. Let your kids safely bounce, flip forwards and back.
2. Ripley's Surfers Paradise: Would you like to see some eye-popping and at the same time amazing exhibits? At Ripley's Believe It or Not! Odditorium, you can enter the incredible world of Robert Ripley. There are a total of 15 themes galleries which includes interactive exhibits. You can also strike a pose next to the tallest man, see a Tibetan Skull up close and more!
Another incredible experience at Ripley's is the Ripley's Impossible Laserace. Wiggle your way out of the web of lasers. Make sure not to break the beams and make it fast!

3. ZONE BOWLING: This entertainment centre offers various fun activities starting with bowling but in a completely different environment. Get ready to bow a strike at the glow-in-the-dark lanes.
How about some Laser Tag? ZONE BOWLING also offers a fun laser tag game in different settings. There is an eerie underworld of urban sprawl, a spacey alien atmosphere, an ancient prehistoric jungle, and a macabre medieval landscape. Whichever the setting is, make sure you are ready when you are on the battlefield. Score as many points as possible by striking the target vests of your enemies but make sure to run fast after hitting your target.

Excited to spend a delightful family holiday on the Gold Coast? Book your Broadbeach family apartments at Aruba Surf Resort today!