Posted in
Local Events
@
Jan 22nd 2020 9:44am
- By Administrator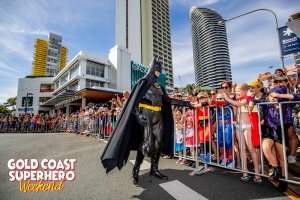 The biggest superhero event on the Gold Coast is back in March! Head to Broadbeach for an action-packed weekend of all things superhero-related, lasting three days in total with our Broadbeach family apartments offering a budget stay if you're looking to soak up the full program of events!

Here at Aruba Broadbeach, we provide cheap accommodation for singles, couples and families in the heart of the Gold Coast, comprising budget studios, one-bedroom apartments and two-bed apartments with free WiFi and superb onsite facilities to take advantage of.

This March, be all set for Gold Coast Superhero Weekend by booking with us!
Gold Coast Superhero Weekend 2020
Gold Coast Superhero Weekend sees Broadbeach come alive each March with huge entertainment stages, parades and incredible cosplayers with a bustling attendance in the thousands. For comic book fans, it's an event that shouldn't be missed, packed full with lots to see and the unmissable opportunity to suit up as your favourite hero or villain!

Whether you prefer DC or Marvel, come along to soak up the high-energy atmosphere in Broadbeach, featuring stalls, activities and after parties centred around the massive annual Supanova Superhero Parade. Enjoy meet-and-greets and picture-taking opportunities with famous cosplayers and your favourite comic book characters, along with live entertainment on stage for a supercharge weekend like no other on the Gold Coast.

Gold Coast Superhero Weekend 2020, arriving with Supanova Comic Con at Gold Coast Convention Centre, will take over Broadbeach from March 13 to March 15!
Book Cheap Broadbeach Family Apartments with Aruba
Spoil the kids to this unforgettable weekend event in Broadbeach Gold Coast and stay just moments away from all the excitement with our Gold Coast budget accommodation for families at Aruba Surf. Our simple choice of Broadbeach studio apartments and fully self-contained 1/2 bedroom apartment accommodation is ideal if you're hoping to save, providing all the comforts of home complete with onsite guest facilities to take advantage of.

Both studio and apartment options come with kitchen facilities, air conditioning, free WiFi and an inviting private balcony. Our Broadbeach studios are perfect for individuals and couples, while our 1 and 2 bedroom open-plan apartments offer extra space for couples, families and groups of up to 6 guests. For our best rates, book directly!
Save - Book Directly Today
Make sure you're ready for 2020 Gold Coast Superhero Weekend in Broadbeach by booking our budget Broadbeach accommodation at Aruba Surf, conveniently located on Anna Avenue and just a short walk from Kurrawa Beach, Pacific Fair and Gold Coast Convention Centre. We offer the best price guaranteed on all direct bookings, inclusive of free WiFi as well as guest access to our heated outdoor swimming pool, spa, gym and barbecue area.

Gold Coast Superhero Weekend is the ultimate reason to visit Broadbeach this autumn - book your cheap weekend break now! Find more information and view our direct rates at Aruba Surf.