Posted in
Local Events
@
May 11th 2015 4:57pm
- By Administrator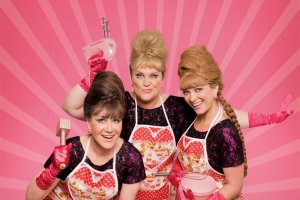 On August 4, 2015, enjoy A Morning With…The Fabulous Singlettes at Paradise Showroom.
Celebrate the greatest hits of the 60s and 70s with Naomi Eyers, Melissa Langton and Diane Dixon. The trio sing up a storm, with dance moves to die for, frocks galore and beehives that are a triumph over gravity.
Featuring music of The Ronettes, The Supremes, The Chiffons, The Shangri-Las, Dusty Springfield and many more, the girls still pack 'em in and leave 'em cheering for more.
These morning concerts offer a range of high-quality musical performances as well as a light morning tea and lucky door prizes.
If you are planning to watch the show, you may want to book our Broadbeach Holiday Apartments. Our resort is just minutes away from The Arts Centre Gold Coast.
We offer a great selection of one bedroom and two bedroom apartments. Our apartments are fully furnished and complete with everything you will need. It is perfect for business travellers. Our one bedroom apartments feature a private balcony, a fully-equipped kitchen with dishwasher and microwave, and in-room laundry facilities including a washer and dryer.
There are also two bedroom apartments which are ideal for six guests. Our two bedroom apartments are fully self-contained. Our split level units offer two private balconies, one bathroom, an ensuite, phone, a fully-equipped kitchen, in-room laundry facilities and more. Prepare gourmet meals for your loved ones. Feel on top of the world as you take in the marvellous views from the balcony.
Aside from our fully furnished apartments, we also have guest facilities for your convenience. Our guest facilities include a heated sparkling pool, a Jacuzzi, a tour desk, a fitness room, barbecue area and business facilities.
Enjoy A Morning With…The Fabulous Singlettes on August 4, 2015 at Paradise Showroom, The Arts Centre Gold Coast.
For booking information, please visit http://arubasurf.etourism.net.au