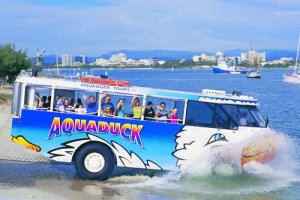 Would you rather see the Gold Coast sights on land, or explore the Broadwater? Actually, you can have both. Enjoy the Gold Coast by land and water. See the Gold Coast waterways and famous landmarks on the amphibious Aquaduck.
Your adventure begins in the heart of Surfers Paradise. Weave through the streets of Surfers Paradise. Waddle along and see the Gold Coast beaches and the luxury homes. The Aquaduck "duck dives" into the beautiful Broadwater and offers a unique view of Marina Mirage, Australia Fair, Mariners Cove, and the Yacht Club.
A tour guide will help explain all the sights. Children are even given a chance to drive the amphibious vehicle on the water for a short time.
The tour only takes 45 minutes to an hour. You may easily include it in your itinerary.
The Aquaduck Gold Coast Tour departs hourly throughout the day, 7 days a week. Tours depart from Centre Arcade, Surfers Paradise Boulevard just a few minutes away from our Broadbeach Holiday Apartments.
To learn more, visit www.aquaduck.com.au
Image Source : Aquaduck Adventure