Posted in
Local Events
@
Feb 13th 2019 12:13pm
- By Administrator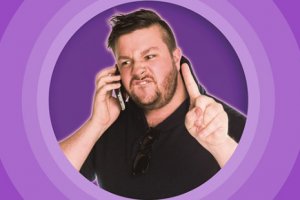 Christian Hull, renowned comedian, podcaster, writer, and in-demand content creator, is taking his iTunes Top 50 podcast Complete Drivel to the masses for his first live tour.

For the last nine years, Christian has been working for Australia's most extensive radio network SCA, making hours of entertaining content for the national Carrie & Tommy Show. In his spare time, Christian shoots candid videos in his Melbourne apartment. His laugh out loud characters and parodies have amassed a strong following with over 775,000 online followers and millions of views.

Christian experimented with longer-form episodes, and this gave birth to the Complete Drivel podcast. The down-to-earth Christian calls the podcast 'a complete waste of time'. But many would disagree. His honest and quirky podcast is a staple in the iTunes Top 50. No subject is off limits from his sexual experiences to broad chit-chat and personal updates.

Now the 'sh***est podcast on iTunes' is going on tour. The show will be a selection of stories from Christian's childhood. Find out what it was like growing up with triplet brothers. The no holds barred discussion even ventures into his sexual past. He is single, childless and whines about everything. Special guest 'Trish' will be part of this funny show!

Expect the show to be even bolder than the podcast. Hurry and book your tickets early. Don't miss this fantastic comedy creator when he brings his raw talents to the stage. Don't miss the show on April 12 at Home of the Arts.

Our Budget Accommodation Broadbeach is nearby. Schedule your weekend at our resort and have a pleasant stay.

We have top studio apartments and two bedroom apartments. The studio apartments are entirely furnished with a balcony, air conditioning, cable TV, basic kitchenette, a small fridge and more. Prepare delightful meals in the kitchenette. The one bedroom apartment is entirely functional. It features a private balcony, air conditioning, modern furnishings, and more. Suitable for four guests, bring your family and friends along and have a great holiday.

For booking details, go to https://www.arubasurf.com.au/apartments.