Posted in
Local Events
@
Sep 11th 2019 3:21pm
- By Administrator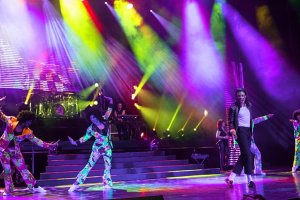 The most sought-after Michael Jackson tribute concert on the planet is arriving near our budget accommodation Broadbeach resort for New Year's Eve 2019!

Michael Jackson HIStory Show is the world's premier Michael Jackson tribute show, boasting a large-scale performance with backing dancers, state-of-the-art stage production and the most authentic Michael Jackson impersonator there is - Dantanio.

MJ HIStory Show has been performed the world over to sold-out audiences, and for diehard Michael Jackson fans, it simply doesn't get any more authentic! Unforgettable MJ hits from the entire back catalogue - such as "Thriller", "Smooth Criminal", "Billie Jean", "Beat It", "Bad", "Black or White" and the rest - are performed with show-stopping accuracy, alongside famous Michael Jackson collaborations and all the songs from his early days with The Jackson 5.

Fronting the Michael Jackson HIStory Show is Dantanio, who has been singing and dancing to the songs of MJ since the age of nine. A gifted performer who looks, sounds and moves like the King of Pop himself, Dantanio's on-stage performance as Michael Jackson is an unforgettable treat for Michael Jackson fans, rounded off with iconic costumes seen throughout Michael Jackson's illustrious four-decade career.

Back once more for 2019, Michael Jackson HIStory Show is set to deliver the ultimate New Year's Eve celebration on the Queensland Gold Coast. Across three explosive performances, Dantanio, phenomenal backing dancers and his world-class band are to be missed, which you can enjoy live this December near our Gold Coast Broadbeach holiday apartments.

MJ HIStory Show comes to The Star Gold Coast Broadbeach on Friday December 27, Saturday December 28 and Tuesday December 31. For an affordable stay nearby, look no further than Aruba Surf Broadbeach, where we offer fully self-contained studio and apartment accommodation only a 5-minute walk from the best monthly shows at The Star Gold Coast.

With Aruba Surf, relax comfortably in the heart of Broadbeach Gold Coast with a large Queen-sized bed, kitchen facilities and an inviting private balcony. Our studio apartment is a budget-friendly option for couples and solo holidaymakers, while our one and two bedroom apartments are ideal for couples, families and groups looking to spread out.

Make Broadbeach your destination this New Year's Eve for Michael Jackson HIStory Show! Find more information today and save by booking directly with us at Aruba Surf Gold Coast.