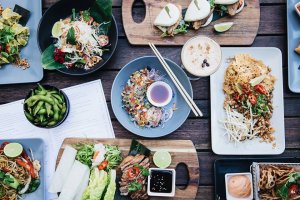 Travelling for food? Why not! Food is undeniably a big part of everyone's travels. And if you are eyeing Broadbeach, then you are in for a treat as there are more than 500 restaurants and bistros to choose from.

If you are staying in a Broadbeach resort accommodation like Aruba Surf, you can visit any restaurant you want. The resort is located at 20 Anne Avenue Broadbeach and has a selection of fully self-contained studio apartments as well as one and two-bedroom apartments plus a range of resort-style facilities.

Staying here not only gives guests access to these excellent amenities and facilities, but also to the most popular tourist destinations on the Gold Coast which includes natural attractions, shopping centres, theme parks and foodie destinations!

Below are three of the many restaurants you can visit near Aruba Surf Resort.
Hideaway Kitchen & Bar
Do you love colours? Then you will be both surprised and pleased with Hideaway Kitchen & Bar's amazing setting. Instead of stools, they have bar swings plus beautiful graffiti-covered walls and a hanging umbrella installation. Diners will surely forget reality when they dine here.

Speaking of which, Hideaway Kitchen & Bar offers mouth-watering Asian street food and drinks. They actually have quite a selection of raw dishes, house-made dumplings, BBQ, rice and noodles as well as small plates and big plates for sharing.

For the 'small plates of something', there are dishes like duck spring rolls with canton sauce and wok-tossed kimchi prawns with salad greens & lime. The 'bigger plates to share', on the other hand, has choices like steamed whole fish in soy with ginger, shallots, herbs & chilli and whole tempura fish with coriander, onions and Amazu Ponzu.

Hideaway Kitchen & Bar is located at 2657 Gold Coast Highway, Broadbeach and is open Monday to Friday from 5 pm till late and from 12 pm until midnight on weekends.
Mamasan Kitchen + Bar
How about a Pan-Asian dining experience? Mamasan Kitchen + Bar's menu is designed on the share food philosophy, encompassing small intimate bites to banquet style dining.

They have dumplings & buns; like spanner crab ravioli dumplings and Asian mushroom spring rolls. For the small plates, they have dishes like octopus karaage salad and pork san choy bau. The larger plates has choices like Peking duck pancakes and wagyu beef red curry. Mamasan Kitchen + Bar is located at 3 Oracle Blvd, Broadbeach and is open daily from 12 pm until late.
Social Eating House + Bar
Now for some modern Australian flavours, go visit Social Eating House + Bar, a consecutive three-time winner of the People's Choice 'Chef of the Year' Award. The restaurant offers large plates to share such as ½ or 1kg boneless lamb shoulder, which is slow roasted in sheep's milk yoghurt, lamb jus and cabbage slaw. They also have small share plates like Iluka king prawns with garlic, cider & herbs plus a great selection of cocktails and wine.

Social Eating House + Bar 3 is located at 3 Oracle Boulevard, Broadbeach and is open daily for lunch from 12 pm and dinner from 5 pm.

Click here to check the availability of Aruba Surf's budget accommodation Broadbeach.