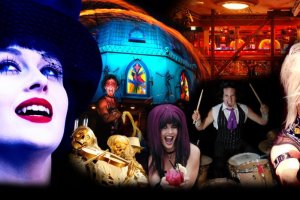 Off to an exciting and unique holiday escapade with your closest friends at Broadbeach Holiday Apartments? Brave enough to face your fears? Overcome those 'little childhood' phobia on ghost and other eerie creatures. If you think you could take the challenge, dare to include Dracula's Cabaret Restaurant unusual yet luxurious dining experience in your travel itinerary.

Dracula's restaurant and bar is a family theatre gourmet hub with comedy and musical acts, special visual and audio effects, scary yet posh ambience, a ghost train ride, and a sumptuous dining feast. Its variety of menus includes fish, veggies and meat for some healthy main dishes, and their 'deadly' and extremely luscious chocolate desserts.

Undeniably, the most popular coastal suburb of Broadbeach is known to be the centre for the finest gastronomy at the Gold Coast. And perhaps, one of the best ways to experience all the scrumptious cuisines with a twist is to taste what Dracula's has to offer. Tempting and irresistible, Australia's longest-running cabaret restaurant promises you and your fellows two hours of haunted thrills and a chilling sense of fun, burlesque theatre, music, comedy and satisfying cuisines.

After these thrills, chills and bliss, you may go straight to your rental lodges at Aruba Surf Resort to relax and unwind as your adrenaline rush in this unusual dining experience, though fun and really exciting, really has taken you deep strain. So, make the most out of our facilities and enjoy the rest of the night.

Take your friends to a unique, unusual and eerie holiday escape. Your stay at our chic and comfy Broadbeach Holiday Apartments is going to be an action-packed and fun-filled holiday accommodation if it is spent with a twist.

Overcome your 'childhood' fears, have the guts and book your reservations now. Visit our page http://arubasurf.etourism.net.au/ and be amazed as to how thrilling and fun giving into Dracula's temptations could ever be.
Image Source : Dracula's Cabaret Restaurant Gold Coast