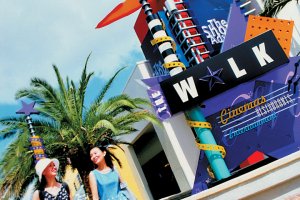 After an entire day of fun in the sun, you can take refuge away from the beautiful beach and into the fabulous malls around Broadbeach. Aside from the spectacular shores, the famous seaside suburb is also home to a number of trendy shopping centres where you can enjoy delightful shopping sprees, gourmet dining and fun recreation.
The staff at Aruba Surf Resort have provided a list of shopping centres in and around Broadbeach:
Pacific Fair Shopping Centre
Just a stone's throw away from our Broadbeach holiday apartments, you'll find the Pacific Fair Shopping Centre. As one of the largest shopping malls around the city, Pacific Fair offers shoppers a wide range of shops and services that caters to your taste and budget. From electronic gadgets and sporting goods to fashionable clothes and gourmet restaurants, Pacific Fair has got it all covered.
The Oasis Shopping Centre
Shoppers can find their heart's desire at The Oasis. Style watchers will be delighted to shop for the trendiest clothes and accessories in fashion boutiques at The Oasis. You can also shop for elegant home furniture, homeware and lovely gift items. Aside from shopping, you can also indulge on a soothing spa treatments and other services at the beauty and wellness salons located within The Oasis.
Harbour Town Shopping Centre
If you're a value shopper, we recommend you to splurge on a guilt-free shopping spree at Harbour Town. Harbour Town is the first and the biggest brand direct outlet shopping centre in the country that offers shoppers with excellent branded items at discounted price. Guest at our Broadbeach resort accommodation can fill their shopping carts with different fashion items, sporting equipments, homeware, and many more. You can also take some time off from shopping and instead enjoy a good movie at Harbour Town Cinema Complex.
Australia Fair Shopping Centre
Indulge on a fun retail therapy at Australia Fair Shopping Centre. Australia Fair Shopping Centre is home to over 230 stores that offers gift items, souvenirs, homewares as well as fabulous clothes and accessories. Aside shopping, you and your friends can also watch movies night at the cinemas complex in Australia Fair Shopping Centre.
For bookings at Aruba Surf Resort, please click here.