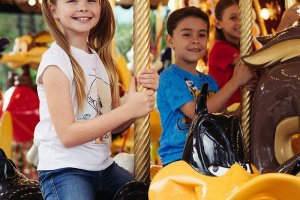 Is your little one a fan of Looney Tunes characters like Bugs Bunny, Tweety and Sylvester? Warner Bros. Movie World is the best place on earth! The famous Gold Coast theme park not only showcases heart-thumping thrill rides but also child-friendly Looney Tunes inspired rides such as:
Looney Tunes-Inspired Rides
Looney Tunes Carousel
This amazing carousel showcases 24 Looney Tunes characters. Let your kids choose which one they would like to ride. Take note, one rider per character only. The rider must be under the maximum height of 145cms to ride the characters on the carousel. Besides the individual characters, the Looney Tunes Carousel also has four carriages that can accommodate four adults or six children per carriage.
Speedy Gonzales Tijuana Taxis
Would the kids love to drive their own taxi? They can actually can at Speedy Gonzales Tijuana Taxis ride. Kids 145cm or under get to drive the single-seat miniature taxi and zoom around Tijuana. Don't worry the miniature taxis are on a controlled track that spans over 95 metres and move at only 6 kilometres an hour.
Sylvester's Pounce 'n' Bounce
Often chasing Tweety Bird, Speedy Gonzales, or Hippety Hopper, anthropomorphic Tuxedo cat has his own ride in the Kids' WB! Fun Zone. This mild junior tower ride is called Sylvester's Pounce 'n' Bounce. The ride is shaped like a tree with Sylvester mounted at the top of the carriage where the riders are. When the ride lifts 4 metres vertically and lowers in a hopping motion, it looks like Sylvester is trying to catch Tweety who is at the top of the tree.
Sylvester and Tweety Cages
Originally called Sylvester and Tweety Carousel, the now Sylvester and Tweety Cages ride consists of six Tweety birdcages. Each can ride two people and the ride rotates as well as ascends and descends periodically.
Yosemite Sam's Railroad
All aboard and get ready for a train ride on Yosemite Sam Railroad. This ride makes two trips which span over 90 metres and moves at only 2 kilometres an hour.
Fun at Warner Bros. Movie World
Besides these Looney Tunes inspired rides, Warner Bros. Movie World also offers other fun experiences like the Looney Tunes Interactive Dance Party. This takes place in the middle of Main Street at 10:45 am daily. Get your kid's dancing shoes ready and capture the moments as kids dance together with the rest of the Looney Tunes characters.

Another great experience and can possibly be the highlight of your visit is the Streets Star Parade presented by Magnum. The parade takes place at 3:30 pm daily at the Main Street. So make sure to be there on time to meet and greet Looney Tunes characters like Bugs Bunny, Daffy Duck, Tweety and Sylvester.

Other Warner Bros. characters are there, too. DC Super Heroes like Batman, the Caped Crusader as well as everyone's favourite cowardly best friends who are always hungry, Scooby-Doo and Shaggy.

Excited to take the kids at Warner Bros. Movie World? Then book a lovely Broadbeach family apartment at Aruba Surf Resort. Not only do they offer budget accommodation Broadbeach, but they are also close to the most wonderful places on the Gold Coast.

Book your room today!