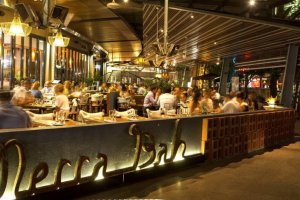 Aruba Surf Resort's Broadbeach Holiday Apartments are designed for your optimum convenience and satisfaction. With its spectacular amenities, cosy and comfy rooms, impeccable customer support and easy access to various tourist spots, our resort has been one of the ideal holiday rental homes in the Gold Coast.

Since the stunning coast is known of its being the iconic shopping, restaurant, amusement and entertainment precinct, we at Aruba Surf Resort, come up with our own list of recommendations on fine dining hubs that could satisfy the cravings and the palate of our valued guests.

Highlighting our considerations and preferences, Mecca Bah caters to the needs of its different clients in fine dining experience and even in holding corporate functions and social gatherings. Its menu includes traditional yet really delectable Moroccan, Turkish and Middle Eastern cuisines. While you savour in each gourmet recipe, you will enjoy it even more as the cosy and breezy ambience, refreshing open-air design and deep banquette lounges all set a good mood – delightful, intimate and private.

This culinary journey from one cuisine to another lets your taste buds delight in their chef's flavourful and modern creations of tagines, Turkish pizzas, grilled fish, lamb and chicken, seafood and cheese platters, salads, sauces, and popular mezze menu choices.

Made out of the freshest and highest grade ingredients, these dishes are highly recommended by avid guests and regular diners as menus that will surely make your palate crave for more. It also features the finest cocktails, highest quality liquors and wine spirits which never fail to amaze their diners.

Make reservations now and excite yourself with our chic and posh yet reasonably-priced Broadbeach Holiday Apartments. This is going to be a fun-filled, action-packed and gastronomic holiday escape with your loved ones or friends.

Visit our page http://arubasurf.etourism.net.au/ today and spoil your big appetite the Moroccan way.
Image Source : Mecca Bah