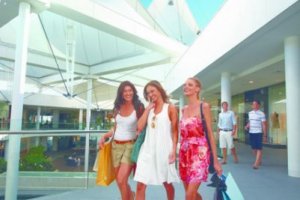 Fashion lovers enjoying a break at Aruba Surf Broadbeach resort accommodation can treat themselves to an afternoon of laid back retail therapy at Niecon Plaza, a stylish indoor shopping centre located right on the beachfront.
There over 45 specialty shops to explore, several luxurious beauty salons and a number of chiropractic and alternative health centres. Check out edgy urban footwear at Urban Gossip, treat yourself to a new holiday outfit at Alex Hill or enjoy an invigorating traditional Chinese massage at Zoneleader.
As well as great shopping, you'll find plenty of excellent places to eat in the Plaza's food court, with everything from Mediterranean to Aussie grills on offer. Every Friday and Saturday night the food court fills up with local music fans as hot local bands and musicians take to the stage for free intimate live performances. If you'd rather sip a cocktail in a chic bar, you can head to one of the renowned nightclubs tucked away in the centre for a night out Broadbeach style!
Find out more at: http://www.nieconplaza.com.au/