Posted in
Local Events
@
Nov 11th 2015 12:06pm
- By Administrator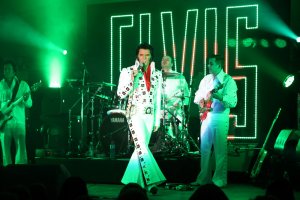 Enjoy the best Elvis impersonators as they turn up the heat in Surfers Paradise. See Surfers Paradise take a step back in time as we pay tribute to the world's greatest music legends with ten days of FREE classic entertainment at Viva Surfers Paradise.

There'll be all your favourite Viva fun including stellar performances by the best tribute artists, rock 'n' roll dancing, classic cars, and of course the ever-popular Ultimate Elvis Tribute Artist Competition where we send the best Elvis artist to compete in Memphis, Tennessee! Be there to cheer for your favourites.

Gracing the stage as 2016's feature performers will be Diogo Light and new to Surfers Paradise, Dean Z!

Diogo Light
July 8-9, 2016

Direct from Brazil for his first appearance in Australia, DIOGO!
When Diogo takes the stage at VIVA Surfers Paradise, you will know what is making this Elvis Tribute Artist world class!
From the time he was a small child listening to his father's Elvis records, he's been a fan. Now, as one of the most sought after Tribute Artists on multiple continents, he considers it a great honour and blessing to pay tribute to the greatest entertainer of all time.
Diogo has held concerts in his hometown area of Porto Alegre, Brazil for years but recently he caught the eye of the world stage when he won Sao Paulo's first Elvis contest endorsed by Elvis Presley Enterprises in 2013 and represented Brazil in the Ultimate Elvis Tribute contest in Memphis, Tennessee coming in 4th. Since then he has gone on to win contests in Myrtle Beach, Tupelo and most recently the Georgia Elvis Festival! Diogo's popularity means he now spends less time in the court room where he is a successful defence attorney and more time singing the songs he grew up with. Having his tribute recognized by fans in so many countries is amazing and he embraces this responsibility with love and respect.
Dean has dedicated his entire life to honouring the legacy of Elvis Aaron Presley. Dean has since been crowned the 2013 Ultimate Elvis Tribute Artist Champion and has also received the 2014 Heart of The King Award. We can't wait to see Dean here in paradise!

Enjoy Viva Surfers Paradise from July 8 to 17, 2016 at Surfers Paradise Beach. Our Broadbeach Family Apartments are just minutes away from Surfers Paradise Beach.

We offer studio apartments and one bedroom apartments. The two bedroom apartment features two bathrooms, cable TV, air conditioning, balconies, full kitchen, laundry facilities, a double sofa, a living area, and more. Ideal for families, friends, and business travellers, book your stay at our resort and have an enjoyable holiday.

For booking information, please visit http://arubasurf.etourism.net.au
Image Source : Viva Surfers Paradise